The Executive Committee is delighted to announce the addition of Wan Jamila Wan Shaiful Bahri as our Young ImpactArtist 2020-2022. Wan Jamila is a gifted artist, who since the age of 4 years old has used visual arts to communicate and develop her talents. Through her award-winning art, she has leveraged her autism and ADHD, and developed her behavioural and social interaction skills, something explored in her book "My Journey with Artjamila". She has sold over 90 original paintings and her story has been in over 100 different media outlets. The Foundation has followed ArtJamila since 2018 and was delighted when Jamila won the Autism Star Award 2019 as part of the World Autism Day.
"Wan Jamila's ability to use art as a communications platform encompasses all the principles of ImpactArt. We are very pleased to welcome Wan Jamila and her mother, Noorhashimah, to our ImpactArt team and look forward to collaborating with Wan Jamila on her journey to further develop her talents." 
Christina-Anne Kyosti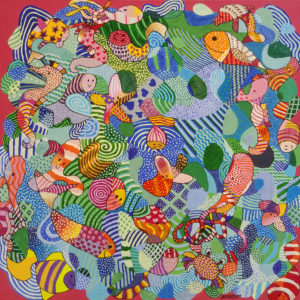 Two examples of Wan Jamila's art (top to bottom): Plastic sea pollution and Mosaic series.
News text by Theodora Morley.